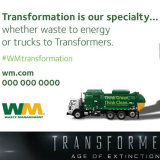 Touch-a-truck events rolling out across North America
Waste Management promotes partnership with TRANSFORMERS™: Age of Extinction

HOUSTON They're taking place across North America – from Los Angeles to Orlando, Houston to Chicago and Portland to Atlanta.

Touch-a-Truck events, where Waste Management employees invite members of the community to tour a collection vehicle, are being organized to promote the company's partnership with Paramount Pictures' TRANSFORMERS™: Age of Extinction (releasing June 27).

During these events, attendees will view a truck equipped with a special TRANSFORMERS™ decal, learn about Waste Management's sustainability efforts and play to win prizes, including TRANSFORMERS collector cards, T-shirts, movie tickets and more.

"These events are really embraced by members of the community where we live and work," said Erika Aaron, director of community engagement for Waste Management. "Our employees and organizers are really excited about these events, which are taking place across nearly all of our Areas, specifically those with key business priorities."

Win a trip to L.A.

Remember, you have a chance to win a trip for four to Paramount Studios in Los Angeles. Simply participate in the Community Connection program's Mission to a Million sweepstakes. Got to www.wmcommunityconnection.com to learn about Community Connection. For complete rules, click here.

Where exactly will Touch-a- Truck events be taking place? Keep an eye out for information related to these cities.

Northern Tier
Boston, Mass.
Chicago, Ill.
Philadelphia, Penn.
Portland, Ore.
Brampton, Ontario

Southern Tier
Atlanta, Ga.
Oakland, Calif.
Thousand Oaks, Calif.
Los Angeles, Calif.
Phoenix, Ariz.
Orlando, Fla.
Lake Mary, Fla.
Daytona Beach, Fla.
Bonnet Creek, Fla.
Jackson, Miss.
Baton Rouge, La.
Destin, Fla.
Jackson, Tenn.
Nashville, Tenn.

If you have a question about a particular location, contact Corporate Communications at [email protected].