Container Placement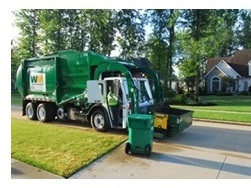 Place carts:
Two (2) feet apart

At least three (3) feet from cars, trees, mailboxes, fences

Cart wheels as close to the curb as possible

Cart lids opening toward street
When possible, trucks with robotic arms will lift, empty and replace the carts without the drivers leaving the trucks, reducing safety hazards and traffic congestion.
Please remove all containers from the street as soon as possible after collection.
Do not put these items in your garbage:
Computers and TVs

Motor Oil

Hazardous Waste

Needles or syringes

Yard Waste Loose or hot ashes Loose cat litter or animal waste (please double bag)

Unbagged packing pellets or sawdust

Concrete, rocks, or dirt
Garbage Containers
Garbage charges are based on container size. Typical weekly garbage service needs:
1-2 people / household

35-gal. garbage cart
Holds 1-2 kitchen bags
(19" wide, 24" deep, 38" high)

3-4 people / household

64-gal. garbage cart
Holds 3-5 kitchen bags
(24" wide, 27" deep, 42" high)

4+ people / household

96-gal. garbage cart
Holds 5-7 kitchen bags
(26" wide, 35" deep, 46" high)
Extra Garbage
There is an additional charge for each extra bag or container (32-gallon, 65 pound limit) that doesn't fit in your garbage container with the lid closed. If you often have extra garbage, you may want to increase your garbage service level.
Tips To Reduce Your Garbage
Recycle
Recycling reduces garbage, and so you may be able to use a smaller garbage container for a lower rate. If you have curbside recycling service, there is no limit on the amount of clean recycling you can set out.
Compost Food Waste
Food scraps and soiled papers are a resource, not a waste! When these materials are recycled, they become compost, a natural product that can feed plants and trees while improving soil health.
Prevent Waste Before You Buy, Use or Discard an Item
Before you buy, use or discard an item, ask yourself:
Can I buy this product with less packaging?

Can I or someone else use this again?

Can I recycle this after I use it?
Can I get this item with recycled content?
Yard Waste is prohibited from the garbage in Iowa.
Waste Management encourages residents to compost their yard waste. Two easy ways to compost include:
Composting it in your backyard, or

Taking yard trimmings to a transfer station that accepts "clean green"
Please contact customer service for Yard Waste Drop Off Locations in your area.