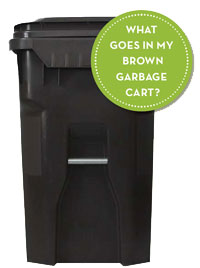 Diapers
Disposable razors
Cactus & palm branches
Cat litter & pet feces
Glassware & ceramic dishes/cups
Hoses & wire
Juice boxes/pouches
Non-fluorescent light bulbs
Sheet glass (windows, mirrors, etc.)
Foam cups or packing materials
Treated wood (painted, stained, etc.)
What's Not Garbage?
Batteries
Electronics
Fluorescent light bulbs
Paint cans
Used motor oil & filters
Household hazardous waste should be disposed of properly at HHW facilities. Call 800-606-6606 or visit www.household-hazwaste.org for facility locations and schedules.