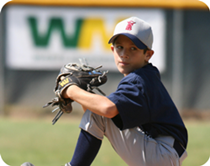 Waste Management's operations provide vital services to homes, schools, businesses and government facilities, yet we maintain a strong local commitment to every neighborhood we serve. Not only do our employees live, work and raise their families in Ventura County, but we are privileged to work in a business that improves the health and safety of individuals and communities in a very direct way. Making communities cleaner, safer and stronger is a central focus for us.

For more than 30 years, Waste Management has been both a provider and community member in Ventura County, promoting recycling and community organizations. Our company embraces the opportunity to be a good corporate citizen through a vigorous and growing community relations program. We are involved in local community organizations. We participate in numerous community activities and initiatives. We contribute through donations and offer support services to a broad variety of local events, and our employees participate in volunteer efforts throughout their communities.
Environmental Education
Environmental responsibility is a community issue, which is why we believe communicating the importance of recycling, reducing and reusing is an essential part of our obligation to the communities we serve. To this end, WM has been the catalyst for organizing and staffing many community clean-up projects.

As part of our involvement with area schools, Waste Management has promoted school-based recycling and environmental education. Each year, hundreds of young people visit the landfill and learn about environmentalism and landfill management. Our partnership with Newspapers in Education provided local elementary schools with an environmental curriculum.
Community Outreach and Educational Programs
Recycling Programs
Charitable Contributions
Contact: Lisa Hemenway at (805) 581-1746 or Lhemenway1@wm.com